Spotify is an online music service that also offers podcast subscription.
It connects with your mobile device, tablet or computer to allow you to listen to unlimited music through your library, their library or radio stations. We will look at some of the best Spotify Alternatives in this article.
The interface is very easy to use and the desktop application has an especially clean feeling interface that everyone can enjoy.
Spotify is a great way to listen to your favorite music for free. It's designed with the end user in mind, which means that they do an excellent job of making it simple to use.
Its current library of over 40 million songs, which is constantly growing, as well as a slew of cool features like customized playlists based on user preferences, artist-based radios, podcasts, social media integration, collaborative playlists, and a slew of others, make the platform a very appealing option for the user who wants almost everything with little effort.
You won't have to worry about any complicated learning curve or extra money needed to use the service. With Spotify you can listen to any song at any time. All you have to do is create your own playlists right on the site.
In this article, we have made a list of the best alternatives to Spotify that you can try.
Let's get started!
---
Top Spotify Alternatives
Here is a list of the alternatives of Spotify for music lovers:
1. SoundCloud
People may upload and listen to music on SoundCloud, which is a freemium music streaming service. Alexander Ljung and Eric Wahlforss founded it in 2007.

Music streaming is available for an unlimited time on all mobile devices and desktop PCs however only Premium users have access to features such as offline listening and ad-free playback.
It's an online audio distribution platform that allows users to submit an infinite number of songs, podcasts, audiobooks, and talk programmes.
Users have the freedom to listen to any song they want, whenever they want. Users may share what they're listening to with their peers on SoundCloud, through social media channels like Facebook or Twitter, or through other news sources, in addition to listening.
On SoundCloud, users may follow other users and receive notifications when they submit new content.
SoundCloud is a fantastic platform for musicians and artists who want to share their work with the rest of the world.
It's also a place where those who like listening to and discovering new music may find new artists and tracks that they might not otherwise hear on mainstream radio or television.
2. Deezer
Deezer is a music streaming service that operates via the internet.
Users may listen to music from record companies such as EMI, Sony, Universal Music Group, and Warner Music Group on a variety of devices, both online and offline. Web, Android, FireOS, macOS, BlackBerry, iOS, Windows Phone, and Symbian are all supported by the service.
It offers you access to over 73 million music and other audio material, such as podcasts, all around the world.
There are also radio stations where you can choose what you want to listen to, whether it's classical or current. You can download music or listen to it on the web. Enjoy!
3. YouTube Music
You can quickly locate what you're searching for and discover new songs on YouTube Music.
You can get playlists and suggestions based on your location, preferences, and what's hot in your area.

You'll have no trouble finding the albums, singles, live performances, covers, and remixes you want.
When you lock your screen or utilize other apps, your music will not stop playing. You may save your favorites to your computer.
Some of the benefits of YouTube Music are:
YouTube Music offers ad-free access to millions of songs and movies.
For offline listening, download songs and movies to your mobile device.
Keep your music playing in the background while you utilize other apps by using background play.
Enable audio-only mode to listen to music without having to wait for the video to load.
4. Bandcamp
Bandcamp is a music streaming service and online digital music retailer, founded in 2008 by Oddpost co-founder Ethan Diamond and programmers Shawn Grunberger, Joe Holt and Neal Tucker.
Bandcamp allows artists to upload their music to the website and receive payment from these sales.
Artists retain 100% of the rights to their work, can set their own price, and can decide where they want to distribute their music. All songs on Bandcamp are available as a high-quality mp3 download for purchase.
Artists can also choose to distribute their music for free.
5. Apple Music
Apple Music is an on-demand streaming service, developed by Apple Inc.

It provides music listeners access to unlimited songs from all of the major labels and various independent labels.
Songs in Apple Music are available through the iTunes Store, where music purchases can be made with an account. However, to stream songs, a monthly subscription is required.
6. Pandora Radio
Pandora Radio, launched in 2000, is a free (ad-supported) online radio station. Over 400 characteristics of songs are evaluated using the Music Genome Project in order to customize radio programs based on music you enjoy.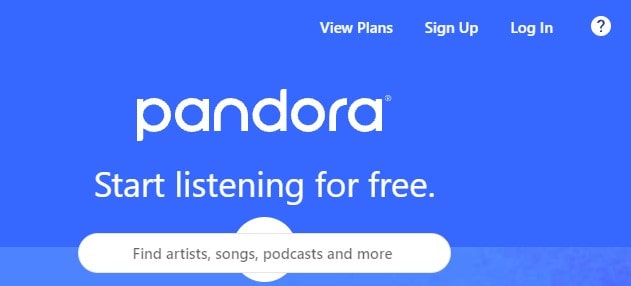 It is only available in the United States, Australia, and New Zealand.
If you upgrade to Pandora One you will get the following benefits:
High-Quality Streaming: You'll hear 192Kbps audio when listening on the web.
Pandora One Desktop: Listen to Pandora without having to keep a browser window open by using a dedicated desktop program.
No Ads: Pandora One is totally ad-free, with no audio or visual advertisements.
Customize Your Look: Surround the Pandora player with one of eight custom "skins" to make the player's appearance as unique as the music it plays.
Mini Player: Minimize Pandora One to the smallest browser window available.
7. Jamendo
Jamendo is a web-based platform that allows users to upload and share their music. It was created in 2003.
It has more than fifty million albums. Jamendo, which is free to both users and artists who want to share music on their platform, does not sell any downloads.

Instead, it helps artists connect with fans by offering a variety of services including "unlimited hosting space for audio files" and tools that allow users to interact through comments or forums.
So these are the 7 best alternatives to Spotify to enjoy music!
---
You Might Also Like