WordPress is a Content Management System (CMS), which means that it was designed to help users manage all their content on a website, from the smallest detail to the biggest one.
As such, it's very easy for anyone with basic technological know-how to create and maintain a WordPress site.
It is now one of the most-used blogging platforms on the web, with over 60 million websites just in English. WordPress's popularity is due to its flexibility, ease of use, wide selection of features, and low cost.
Another advantage of using WordPress is the community, as there is a huge WordPress community, and it's growing every day.
In this article, we have listed down some of the best alternatives to WordPress if you are looking to create or design a website/blog for yourself or for clients.
Let's get started!
---
Top WordPress Alternatives
Here is the list of the popular alternatives to WordPress that you want to use:
1. Ghost
Ghost is a publishing platform written in Node.js and built on top of the Express web framework Ghost is open source and is released under the MIT license.
It is designed to be highly modular and extensible.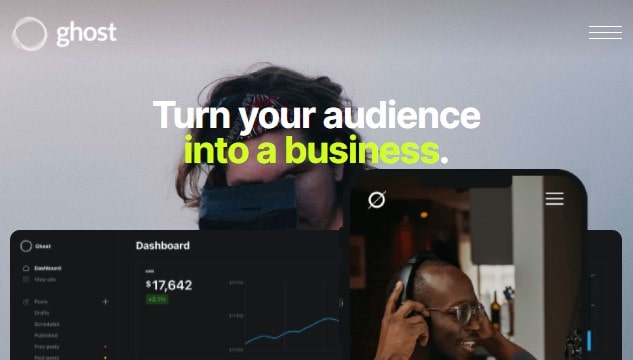 Ghost uses markdown files with front matter for metadata, which makes writing posts fast and easy.
The core can be extended with plugins to handle more complex types of content – allowing you to customize just about anything.
To learn more, check out the Ghost documentation on GitHub.
2. Webflow
Webflow is a web design tool that gives you the power to build websites with no coding.
You don't need any technical knowledge to get started with building websites with this tool. So whether you're a designer, marketer, small business owner, hobbyist, or just someone who wants to build a personal site, Webflow has the features and integrations you need to design and launch stunning modern websites in minutes.
Webflow websites load fast. You can build a standard website in Webflow in minutes with no code required.
Webflow websites look stunning on any screen. Webflow sites are search engine optimized (SEO). Webflow sites automatically generate standardized code and metadata (site name, description, and keywords) for search engines.
Webflow sites integrate with services you already use. You can integrate with both web-based tools and SaaS products such as MailChimp, Salesforce etc.
3. Drupal
Drupal is a content management system (CMS) that was originally designed for blogging, but it can be used to power any type of website.
It is open-source software which allows people to easily create and manage different types of web pages without having specialized computer programming skills.
Drupal is written in PHP and JavaScript and Drupal was originally launched in 2000 and has been managed by Drupal Association since 2001.
Drupal gives you control to manage your website the way you want it without having to alter any of its core files or functionality.
It can be as simple as a personal blog, or as complex as an online newspaper, digital magazine or an e-commerce website.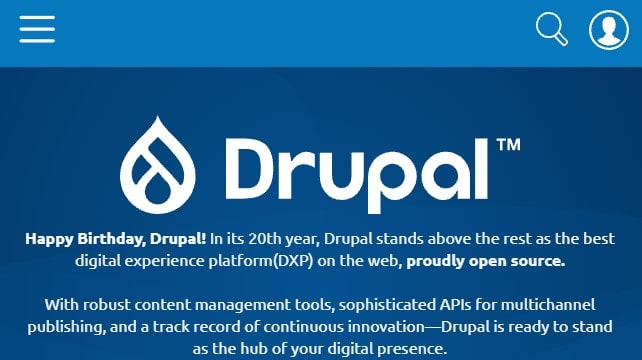 Drupal offers a lot of features for building your site, but you can also customize your site to easily meet your business needs.
One of the biggest benefits is its ability to scale as your site grows and more features are added. Drupal allows you to build an editorial workflow so that all updates related with content are managed in a centralized way.
Drupal is very flexible with its templating system, allowing you to easily make changes to meet your needs.
You can choose from a variety of Drupal templates and themes which will help you give the design layout for your website.
Some of the core features are:: Content Management System (CMS), Drag and drop page building, customizable via templates, and extend with modules.
4. Joomla
Joomla is a CMS that's been around since 2002.
Like many other CMS's, Joomla is open source and free to use. Like WordPress (another popular web publishing platform), Joomla gives users the ability to build their own websites that can reach a wide audience.
Joomla is one of the most common CMS's found on the web today, so it makes sense that many gaming websites are built using this platform.
There are several advantages to choosing Joomla as your CMS of choice for building a community website:
It provides you with basic functionality out of the box (search engine optimization, social media sharing, statistics).
It's free to use.
It has a large community of active members that are ready to help when you get stuck.
5. Grav
Grav is a free and open-source web application that enables users to make compelling websites.
Grav allows the user to create and edit a website with text, pictures and videos to share with their audience. Grav is commonly used for:
Personal Websites
Photo Albums
Company websites
Portfolios
Blogs
Grav is designed with the KISS principle in mind, which implies that users don't have to worry about things such as installing a web server or software on their computer.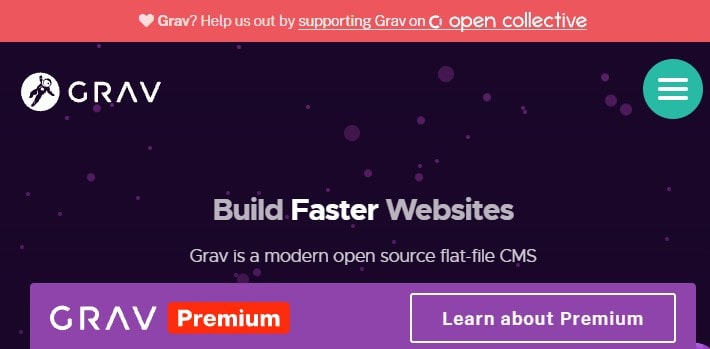 The only restriction Grav has is its reliance on PHP and MySQL. In other words, it runs on a web hosting service that is based on PHP and MySQL.
Grav has an almost identical user interface to the popular blogging system WordPress, which makes it very easy for users to get started with Grav.
Researchers from Carnegie Mellon University found that 88% of bloggers who had never used a CMS (which is another term for web application software such as Grav) were able to create their blog within ten minutes with Grav.
Furthermore, 77% of the bloggers who had used WordPress before found it very easy to switch to Grav.
Grav is released under an MIT license. It's free to download and use on all websites without any restrictions.
6. Wix
Wix is a web development platform that helps businesses and individuals to build their website.
The user first create the content for their website, then they use the drag-and-drop editor to make it look like they want.
There are also other features like SEO, banners, blogs, newsletters etc. which enable you to communicate with your customers or subscribers effectively.
Wix was founded by Avishai Abrahami and Nadav Abrahami in 2006.
Wix allows the user to create their own website that looks professional.
7. Blogger
Blogger is one of the most popular blog publishing platforms that are used by people around the world.
Blogger platform is a product of Google.
Blogger can be used to quickly and easily create blogs, as well as edit them with little technical knowledge required.
The majority of bloggers use Blogger to provide readers with content about their interests or lifestyles. You can also create a blog site to support your small business or product.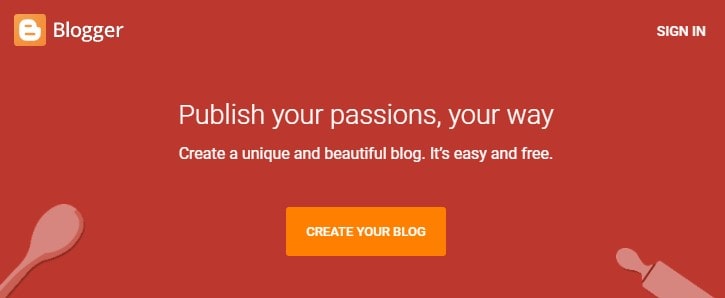 It requires little technical knowledge to set up your blog on Blogger, making it perfect for beginners who are new to blogging, don't have much time on their hands, want a quick way to publish content, or need a simple platform for sharing photos and videos of themselves or their interests with friends and family members.
The platform also makes it easy to manage your blog. If you need to create a blog quickly, learn how to set up a Blogger account and how to upload images so that you can start posting content today!
So these are the 7 best alternatives you can try for WordPress.
I hope this article was helpful to you and made your search for a perfect CMS easy.
---
Frequently Asked Questions
What are some free WordPress alternatives?

Some of the free alternatives that are free are:

Jekyll – Written with Ruby and licensed under MIT, Jekyll is a simple static generator that allows you to quickly create an HTML version of your blog. It can be used with GitHub Pages to easily publish content on the web.

Hugo – Also written in Ruby, the Hugo static generator is less popular than Jekyll and doesn't have as many features.

Octopress – Written with Jekyll but with a different directory structure, Octopress aims to make blogging more fun by introducing custom themes and a more modern workflow.

Pelican – Similar to Jekyll, Pelican is an open-source blog publishing platform written in Python and licensed under GPLv2. It is a static generator that processes posts using Markdown and reStructuredText formats to generate HTML content.
Hexo

Ghost – Written in JavaScript and Node.js, Ghost is an open-source content management system (CMS) that uses the web browser as its primary interface. Unlike most other options, it is not a static generator but has built-in support for Markdown.

Nanoc – Another Ruby-based blog publishing platform, Nanoc is licensed under GPLv3 and can be used with GitHub Pages to host a website. It requires less configuration than some other options, but it does not yet support Markdown format as standard.

What are some open source WordPress alternatives?

There are many open source WordPress alternatives out there, but the three most popular ones are Joomla!, Drupal, and Silverstripe.

These CMS are both free to download and use for non-commercial projects.

Joomla! – It is a Free and open source CMS written in PHP. It is very popular for its ease of installation, extensive features list, great documentation, ability to run on windows server, setup wizard that makes it easy to configure your site's security settings and much more. Joomla! has also so many free extensions and templates that will make your work easy and fast. Joomla! is considered as one of the best CMS for developer as well as designers.

Drupal – It is another great open source WordPress alternative written in PHP with an extremely good community base which provides lots of free modules, themes and other documentation. Drupal is also considered as one of the best CMS for developers.

Silverstripe – It is an open source content management system written in PHP with lots of free themes, modules and other documentation available on the web. It has very easy to use interface so it's great for people who are looking for a WordPress alternative.
---
You Might Also Like
---