Udemy is a learning marketplace with over 50,000 courses and 20 million students.
They offer the most popular online courses from instructors like Harvard, MIT, Stanford, Amazon Web Services, etc.
All courses are taught by real teachers and were designed for lifelong learners who want to achieve specific skills or career goals.
In this article, you will learn about Udemy in detail, how it works, and how it can benefit you.
So let's begin!
---
What is Udemy?
Udemy is an online learning service based in San Francisco. It provides video courses for children, teenagers, adults, and professionals. Udemy was founded in 2010 by Eren Bali, Gagan Biyani and Oktay Caglar. It is privately held and headquartered in San Francisco.
Udemy has a worldwide base of students from over 190 countries.
It is one of the oldest MOOC platforms available on the web.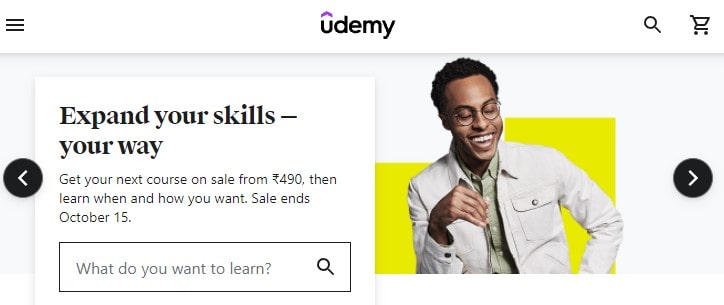 Udemy has a wide range of topics, such as: Web & Mobile Development, Design, Marketing, Data Science etc.
Students can access Udemy's catalog of over thousands of courses for free by watching the first few lectures or they can purchase a course outright.
Once purchased, you can stream or download the video lectures to watch off-line at your own pace.
What makes Udemy different from a standard e-learning platform is that courses are taught from instructors' personal experiences.
You learn not only what to do but also why and how it was done in the past. This allows students to apply, experiment, and learn by doing rather than memorizing facts.
It's a marketplace where people can sell courses that they create, and it's also an online learning platform with hundreds of different instructors who offer classes for students to take.
We think Udemy is a great place for learners because they can get credit courses, and they can also find more informal classes and webinars on all types of subjects.
The courses on Udemy are affordable; there are no pricey textbooks or tuition fees. Instructors post videos for their courses, making it easy to work at your own pace, pause or rewind as needed. You can also interact with other learners through discussion boards and message boards.
Are any Udemy courses free?
Yes, there are. There are some free courses on Udemy that allow you to sign up for a course and then watch as many videos as you want. You just need to provide your email, name and password.
Udemy is a site where anyone can create a course and offer it for sale. Anyone can take any of these courses for free without paying anything.
Is Udemy Worth It?
It provides you with the opportunity to learn at your own pace.
This is perfect for people who are more independent learners and can breeze through material more quickly than others.
There are also many different courses that you can take, and this includes topics such as Marketing, Sales, Business Development and Product Management to name a few.
We believe Udemy is worth it.
Advantages of Udemy
Some of the advantages include:
1. Massive selection of courses to choose from.
2. Courses are available to watch on any device for an unlimited amount of time after purchase.
3. No textbooks required!
4. Expert instructors so you know the material is taught with authority and clarity.
5) Interactive quizzes and personalized video skill assessments that help you stay engaged and on track with what you're learning.
Disadvantages of Udemy
Most courses are not created by experts in the industry, yet charged at rates similar to those of experts.
The discussions on Udemy tend to be disorganized, leaving many unanswered questions for students.
What categories can I find on Udemy?
There are plenty of categories on Udemy. Below are just some of the categories you can find on Udemy:
Web Development, Programming, Maths, Science, Art & Design, Music, Languages, Business & Marketing and many more.
What is Udemy coupon?
Udemy coupon code is a promotional code which buyers of Udemy courses can use to get some credits on their course purchase. Udemy coupon code is a tool for buyers to save their money when they buy Udemy courses.
What is Udemy Pro?
Students interested in IT certifications may use Udemy Pro to get a guided learning experience that will help them achieve their objectives and enhance their life.
What is Udemy 30 day money back guarantee?
You can request refund within 30 days if the course you buy is not liked by you for any reason.
How often does Udemy have sales?
They usually have sales once every month and on most of the festivals and special days.
How to pronounce Udemy
Check out this video:
Can I give a Udemy course as a gift?
Yes! You can give the course as a gift to anyone on Udemy. You can do this by selecting one of the gifts under "Purchase as a Gift" and they will automatically deliver it to the recipient's email address with your personal message.
Do Udemy Certificates improve my résumé?
Yes they do, but only if you do well in the courses and can demonstrate that you know what you're talking about.
Plus, if you're going into coding or programming, then the certification might not mean much to your employer unless you're in the tech industry.
You can get as many certificates as possible, but try to get some experience on top of that so it's not just another online course on your resume.
How to become an instructor on Udemy?
Becoming an instructor on Udemy is one of the ways you can make money by posting lectures on the website.
You don't need any background in teaching or an advanced degree to become a teacher on Udemy. All you need to do is post a lecture following the guidelines specified by the site.
How to create a Udemy course?
Go to Udemy.com to create the course and sign up as an instructor.
Upload video or audio lectures.
Record lectures or speak into camera.
Add detailed course content.
Create pricing and enrollments terms.
Promote the course.
Pricing Model of Udemy
Udemy produces revenue by selling courses to users who enroll in the website. Udemy also provides an option to buy courses for a one-time payment or through monthly installments. The price of each course is determined by the provider at the time it is uploaded to the site, and Udemy takes a percentage of this fee.
Is Udemy accredited?
No. As of the date of this writing, Udemy has not been accredited by any agencies as an accredited course provider. However if offers Certificate of Completion once you complete the online courses in their platform.
How to get a refund on Udemy?
If you want to get a refund on Udemy, go to the Udemy website.
A 30-day money-back guarantee is offered by Udemy.
You may get a refund by calling their customer care staff or by using their self-service refund procedure. Udemy's money-back policy is simple and generally quick.
Do payments on Udemy are secure?
Payments are safe and sound with the Udemy security system. Your credit card data is processed securely with PayPal, which provides industry-leading security as well as other robust payment gateways.
Does Udemy charge a monthly fee?
No, Udemy does not. You can take as many courses or lessons as you want without paying a monthly fee.
Udemy is a pay as you go service, meaning that you can buy courses for a reduced price.
How much do Udemy classes cost?
Courses on Udemy start at a modest price: $10 for new customers.
The most costly courses on Udemy are now $199.99, however you can frequently get promo coupons for up to 90% off online.
You can pay in your own currency, which may lower the price even more.
---
You Might Also Like