WhatsApp is an application used for messaging, voice calls, and video calls. The app also supports group chat with up to 256 people.
WhatsApp relies on the internet connection of your phone or tablet to function. The app uses your device's phone number as an identifier, and it allows you to communicate with other people using the app from anywhere in the world.
In this article, you will learn about WhatsApp in detail and how it works.
So let's get started!
---
What is WhatsApp
WhatsApp is a mobile phone app that allows you to send text messages, images, video, PDF files, voice notes and audio messages to the contacts in your on-phone address book. WhatsApp Inc. developed the application for smartphones. It's one of the most popular messaging apps available today.
WhatsApp was founded by Brian Acton and Jan Koum in 2009. The company's headquarters are located in Mountain View, California.
The popularity of this app has grown even more after Facebook bought it in 2014 for USD $19 billion. WhatsApp is a subsidiary of Facebook Incorporated.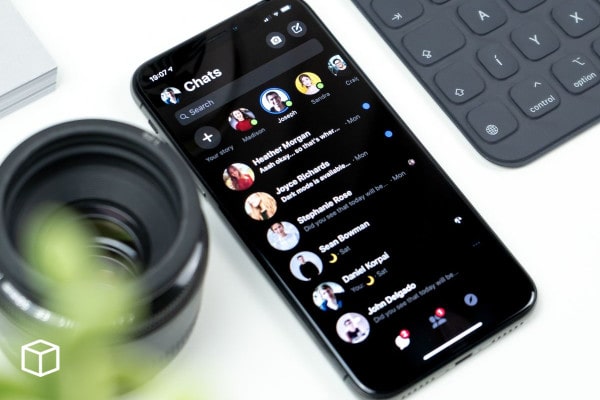 Email was the standard way of sending messages to other people, but with time newer methods like SMS and now WhatsApp have taken its place. Mobile apps like WhatsApp are today an integral part of every smartphone user's life, as they allow them to communicate exactly when and how they want it.
WhatsApp has a lot of options that enable you to customize your messages to make them look good, like adding background colors and stickers. It also lets you attach emojis, emoticons and even photos with your messages. There are many other features that the app offers like the ability to create groups for sending messages.
WhatsApp can be used on devices running Android, Windows Phone, and iPhone iOS.
What is WhatsApp used for?
WhatsApp is a free messaging and calling app that uses your phone's data or WiFi connection. It supports end-to-end encryption for all messages, which makes WhatsApp the most secure chat app.
WhatsApp uses your phone number to keep your conversations secure, so don't forget to add it in the app.
With WhatsApp, you can send texts, photos, videos and animated GIFs to any of your contacts on WhatsApp, even if they're not on what's app yet.
You can also start a new chat with anyone who has WhatsApp, and choose from a selection of free instant messaging apps or chat tools.
As soon as you download the app and verify your number, WhatsApp will automatically save your contacts so they can reply directly from their phones.
WhatsApp works on iPhone, iPad, iPod touch, and Android phones.
How does WhatsApp work?
It's pretty simple actually. You just find the app in the App Store, download it, and when you open it up you can add friends by scanning their QR codes with your camera or typing in their phone numbers.
To chat with somebody, just tap on their name and send them a message. To see your messages, just scroll down and tap "Chats". And that's it!
WhatsApp Features
Safe and Reliable Messaging
Send free messages to your friends and family. To save SMS expenses, WhatsApp leverages your phone's Internet connection to transmit messages.
Group Chat
Stay in contact with the people that mean most to you, such as your family or workplace. You can exchange messages, images, and videos with up to 256 people at once via group chats. You may also give your group a name, mute or customize notifications, and do a variety of other things.
Free Voice Calls
You may chat to your friends and family for free, even if they are in another country, via voice calls. You can also conduct face-to-face chats with free video calls when voice or text isn't enough. WhatsApp audio and video calls use your phone's Internet connection rather than your mobile plan's voice minutes, so you won't be charged for unnecessary calls.
Keep the Conversation Going
You can easily sync all of your chats to your computer using WhatsApp on the web and desktop, so you can talk on whatever device is most convenient for you. To get started, download the desktop software or go to web.whatsapp.com.
Default Security
We put end-to-end encryption into the latest versions of WhatsApp since some of your most intimate moments are shared there. When your messages and calls are end-to-end encrypted, only you and the person with whom you're speaking can read or listen to them. Nobody else, including WhatsApp, can read or listen to them.
Share Memorable Moments
Immediately send images and videos to WhatsApp. With a built-in camera, you can even capture the moments that mean most to you. Even if you have a poor internet connection, WhatsApp allows you to share images and videos fast.
Say What's on Your Mind
Your voice may sometimes say everything. You may record a Voice Message with only one press, which is ideal for a brief hello or a lengthier tale.
Share Documents
Send PDFs, documents, spreadsheets, slideshows, and more without having to use email or third-party file sharing applications. You may transmit documents up to 100 MB, making it simple to deliver what you need to the right people.
History of WhatsApp
WhatsApp was founded in 2009, by Jan Koum and Brian Acton. It was initially released as an Android app for smartphones. It gained popularity when Apple began allowing WhatsApp to be downloaded on their iPhones in 2010.
During the first 2 years, WhatsApp had grown in popularity with clients around the globe, but it wasn't making any money because it didn't offer traditional advertising. The "free forever" that Koum had promised when he launched was beginning to cost the company millions of dollars every year because it didn't offer any way to try and make money.
In 2011, the company acquired a patent for its one-to-one message encryption technology, which would later become an important part of its business model. In December of the same year, WhatsApp was acquired by Facebook for a total of U$19 billion.
Since the acquisition, WhatsApp has been pushing forward without hesitation into new territories. They have introduced features that keep their clients even more attached to their apps and they have become a secure alternative to traditional messaging services with an unparalleled reputation for privacy.
On January 13, 2017, WhatsApp released new terms of service that promised their clients the right to back up their messages.
Statistics of WhatsApp
WhatsApp reached two billion monthly active users in March 2020, up from over one billion MAU in February 2016. In February 2014, Facebook bought the service for 19 billion dollars, making it one of the most popular mobile messaging applications in the world (Source – Statista)
Interesting Facts about WhatsApp
Mr. Brian Acton and Jan Koum, both former Yahoo workers, developed WhatsApp.
It was designed just for IOS users at first.
After rejecting a $10 billion Google deal, the group eventually accepted a $19 billion Facebook offer in February 2014.
It is the most widely used text messaging program on the planet. It has billions of additional users than Facebook Messenger.
WhatsApp appears to be quite kind to its users, as it does not display advertisements.
Who is the owner of WhatsApp?
The owner of WhatsApp is Facebook.
What's the difference between WhatsApp and texting?
WhatsApp is a cross-platform mobile messaging app that uses your phone's Internet connection (4G/3G/2G/EDGE or Wi-Fi, as available) to message and call friends and family.
Texting includes text messages sent through your mobile phones plan carrier's network. If you have an unlimited texting plan with your carrier, then there are no limits on the amount of texts you can send or receive. Texting while roaming incurs additional roaming fees from other territories' carriers who are not under contract with your original provider, making text messaging pricey.
What is the purpose of WhatsApp?
It allows you to send messages for free, keep in touch with your friends and family, share photos and videos anywhere, anytime.
What is WhatsApp number?
It is same as your mobile phone number.
What is WhatsApp Messenger?
WhatsApp Messenger is an application for smartphones that allows the user to send and receive text messages, pictures, audio files, video clips and calls (at no cost) over the internet.
Is WhatsApp Safe?
End-to-end encryption protects WhatsApp chats, ensuring that only the individuals with whom you share them can view your messages.
WhatsApp is extensively used and has been for a long time, thus it is usually regarded as secure. We do not suggest, however, that you click on links or attachments from people you do not know.
What is WhatsApp Business?
WhatsApp Business is the newest WhatsApp feature that allows businesses to provide a seamless customer service experience.
The app offers a suite of tools to help businesses engage with their customers, from broadcasting messages and polls to making announcements and hosting webinars.
Advantages of WhatsApp
One of the main advantages to using WhatsApp is that it is free, which makes it an attractive option for people who are always on a budget.
Another advantage is that the app is reliable. It also doesn't have any ads or in-app purchases, which means you don't have to worry about getting charged for features you're not interested in.
You also get end-to-end encryption for messages.
Disadvantages of WhatsApp
One major disadvantage to using this application is that you need a working internet connection in order to use it.
How does WhatsApp make money?
WhatsApp earns money in two ways right now: WhatsApp for Business and WhatsApp Pay. Indirect revenue is generated by 'Click to WhatsApp ads,' which redirect users from Facebook to WhatsApp.
What is WhatsApp Web?
WhatsApp Web means that you can now access all of your messages and contacts from your laptop, including photos and videos.
All you need to do is download the latest version of the app on your phone, run it, scan the QR code on your computer's browser window with the WhatsApp app open, and follow the instructions.
---
Frequently Asked Questions (FAQs) on WhatsApp
How to block someone on WhatsApp?

1. Open WhatsApp.
2. Tap on the person's name in your contact list that you want to block.
3. Click three dots and then More and then tap on "Block"
4. The app will show that the person has been blocked.

How to know if someone blocked you on WhatsApp?

There are a few signs that you have to look out for that may suggest that you have been blocked by someone:

1. In the chat window, you can no longer view a contact's last seen or online status.
2. No updates to a contact's profile photo are shown.
3. Any messages sent to a banned contact will always have one check mark (message sent) and will never have a second check mark (message delivered).
4. Any calls you try to make will be rejected.
5. If all of the aforementioned signs are present for a contact, it's possible that the individual is blocking you.

How to add contact to WhatsApp?

1. From the applications menu, select Contacts.
2. Select New contact or New from the drop-down menu.
3. Type in the name and phone number of the contact -> click SAVE.
4. The contact should appear in your WhatsApp contact list automatically.

How to delete WhatsApp messages?

1. Open WhatsApp and navigate to the chat where the message you wish to remove is located.
2. Tap and hold the message for a few seconds. Select additional messages if you want to remove numerous messages at once.
3. Select Delete -> Delete for everyone.

How to delete WhatsApp account?

1. Log in to WhatsApp.
2. Select More options -> Settings -> Account -> Delete my account from the drop-down menu.
3. Tap DELETE MY ACCOUNT and provide your phone number in full international format.
4. In the submenu, choose a reason for deleting your account.
5. Select DELETE MY ACCOUNT.

What does one check mark mean on WhatsApp?

Each message you send will have a check mark next to it. Here's what each of them means: The message was delivered successfully. The message was successfully delivered to the phone of the intended recipient. Your message has been read by the intended recipient.

How to backup WhatsApp?

To backup your chat conversations in WhatsApp, open the app and then go to Settings. Tap on Chat Backup to activate it. Tap on Back Up Now to start backing up your chat conversations in the app.

How to delete WhatsApp group?

1. Tap the group subject in the WhatsApp group chat. Alternatively, on the Chats tab, swipe the group to the left. Then choose More.
2. Select Delete Group > Delete Group and you are good to go.

How to share location on WhatsApp?

1. Go to Settings -> Apps & notifications -> Advanced -> App permissions -> Location -> turn on WhatsApp to enable location permissions for WhatsApp.
2. Start an individual or group chat.
3. Select Attach -> Location -> Share Live Location from the menu.
4. Choose how long you'd want to share your live location.

How to update WhatsApp?

Go to the App Store or Play Store and type WhatsApp into the search bar. Next to WhatsApp Messenger, tap UPDATE.

What do the check marks mean on WhatsApp?

Each message you send will have a check mark next to it. Here's what each of them means:

The message was delivered successfully.
The message was successfully delivered to the phone of the intended recipient.
Your message has been read by the intended recipient.

How to Turn off read receipts in WhatsApp?

To deactivate or turn off your read receipts, go to More options -> Settings -> Account -> Privacy -> Read receipts and turn it off.

How to change background on WhatsApp

1. Select More options -> Settings -> Chats -> Wallpaper
2. Select CHANGE.
3. Choose a wallpaper category, then the image you'd want to use as your background.
4. Select SET WALLPAPER.

How to unarchive WhatsApp chat?

1. Go to the top of the CHATS screen
2. Select Archived.
3. Select the individual or group chat you wish to unarchive by tapping and holding it.
4. At the top of the screen, tap Unarchive.

How to send gif on WhatsApp?

1. Launch your WhatsApp.
2. Now open the individual or group chat.
3. Click on Stickers -> GIF.
4. Search search for a specific GIF.
5. Click and tap the GIF that you want to send.
6. Finally click "Send".

How to enable dark mode in WhatsApp?

1. Launch WhatsApp.
2. Click More options -> Settings -> Chats -> Theme.
3. Select from the following options: Dark: Turn dark mode on or Light: Turn dark mode off.
4. This is done.

How to create a group in WhatsApp?

1. You have to go to the "Chats" tab in WhatsApp.
2. Click on New Chat -> New Group.
3. Search or select the contacts that you want to add to the group.
4. Click on Next and now enter a group subject.
5. Finally click "Create" and your group will be created in WhatsApp.

How to appear offline on WhatsApp?

1. Open WhatsApp.
2. Go to Settings tab
3. Go to Chat Settings/Privacy -> Advanced.
4. Now toggle the "Last Seen Timestamp" option to OFF, and then, select "Nobody" to deactivate the application timestamps.
5. Now you will be able to continue in the "offline" mode.
---
You Might Also Like