Are you looking for Notion Alternatives that can make your life easier? Then you have come to the right place.
Let's first understand what is Notion all about, then we will suggest you with some popular alternatives.
Notion is a modern, distraction-free editor for your notes and lists.
Notion is a simple, yet powerful tool for organizing almost anything.
You can create and share notes, lists, outlines, editorials, ideas and more in one place.
Notion helps you to organize your thoughts by letting you put them all in one place. Easily create notes, reminders and make lists to remember everything from the groceries list to the next big scientific discovery.
Notion's clean and minimalistic interface helps you stay focused on your task, not distracted by the application. The default theme is inspired by modern minimalism, but Notion offers a way to make it unique: create your own color scheme or use one of the three ready-made ones (light, dark and black & white, which changes the background color only).
Notion comes with a set of pre-defined templates for your projects. These templates give you an option to quickly create lists, outlines or even full documents in just one click.
All templates are neatly categorized in their respective category folder on the left side of the screen – Documents, Lists and Outlines. The ability to create custom templates is also available for your convenience.
In this article, we have listed down some of the best alternatives to Notion, if you are looking for a application or tool that can enhance your productivity and make you more organized.
Let's get started!
---
Top Notion Alternatives
Here is the list of the popular alternatives of Notion that you would like to use:
1. Evernote
Evernote is an app that helps you remember everything. It is your second brain on your phone and on your computer.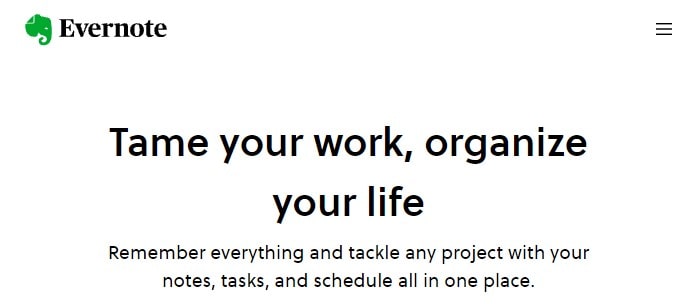 Evernote can help with anything, no matter how small or big the project might seem to you. With Evernote's web-clipper, you can save articles or blog posts from the Internet to Evernote with just one click.
Some of best features of Evernote are:
Save all your notes, ideas and thoughts in one place.
Access your information from anywhere you are with the Evernote app.
Stay on top of your work or school projects without forgetting anything important.
Be more productive than ever before by using Evernote's web clipper to save articles or blog posts from the Internet to Evernote with just one click.
Never lose an idea or thought again by saving your inspiration in Evernote.
Stay organized and on top of your projects with Evernote's organizational tools.
Keep up with current events, no matter where you are using the Evernote app.
Simplify your life while having access to all your information by using the Evernote app.
Stay connected with what's important to you while having access to your information across multiple devices through the Evernote app.
2. Monday.com
Monday.com is a project management and online collaboration tool that makes it easy to get better work done.
It's designed for creatives, teams and entrepreneurs who need to run their whole business from one place.
You can combine your critical tools into one project — like Google Drive, Dropbox and all of your files and tasks will be in one place.
You can also break down your projects into tasks, assign them to members of your team or complete them on your own.
That way, you can manage your company and team from one place.
3. nTask
nTask is an online task management system that helps you get work done.
It's not just a pretty interface, it's also a complete system with mechanisms to help you focus on tasks one at a time, measure your performance, and optimize your workflow so that you can accomplish more work in less time.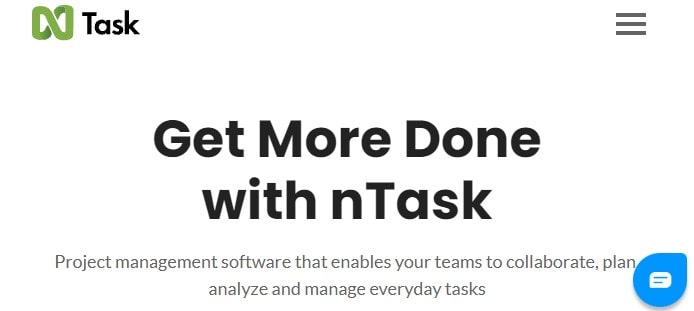 Some of the features of nTask include:
Templates to get the right work done the right way for any type of task or project.
Full undo/redo history so you never have to worry about screwing up again, even while experimenting.
A timer that helps you stay focused and on track; once the timer starts, rescheduling it or turning it off is difficult (can be turned off).
A constant stream of tasks that you can easily prioritize and score with a number from 0-10.
A task notebook to organize tasks by category or project.
Flexible dashboard for looking at all of your tasks in different ways.
Subtasks & hierarchy so you don't get lost in the weeds on large, cross-functional tasks.
Tags so you can add a descriptive name to tasks that may not have a "job title".
Workload forecasting to see when you can expect results from your completed tasks.
A powerful timer you can use to focus on one task at a time, automatically rescheduling or turning off other timers if necessary.
Interactive reports so you can get the information you need out of your tasks quickly Don't be fooled by the simplicity or lack of complexity in this interface; it's a powerful tool you can use to manage & optimize your workflow.
4. Google Keep
Google Keep is a note taking app developed by Google.
Rather than having to install an app, it's built into your device's system (Android or iPhone).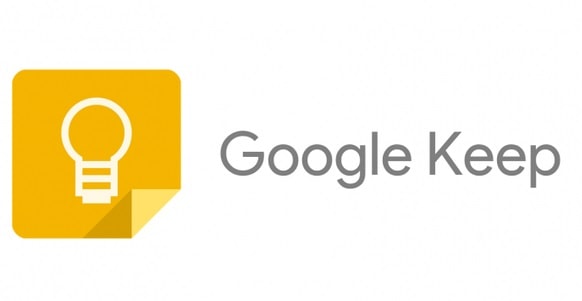 You can create text notes, lists, drawings, photos and audio recordings. You can make your notes private or set up at share with others.
Google Keep has grown to be much more than a simple note-taking app.
Here are some of the features of Google Keep that you need to know about:
Google Keep lets you change your notes' colors. There's no need to be stuck with one color for everything; tap on any note, then shake to change between three colors.
Google Keep also lets you change the size of your notes' fonts. Tapping on the menu button in the upper right corner will open up options for you to change font-size, font-family and theme (light or dark).
5. Microsoft OneNote
OneNote is a free app for Windows or Mac, or your mobile device.
It's the perfect place to capture ideas, meet important deadlines, and work seamlessly with others.
OneNote is available in 32 languages including Spanish, French, German, Portuguese, Chinese (Simplified), Korean and Japanese.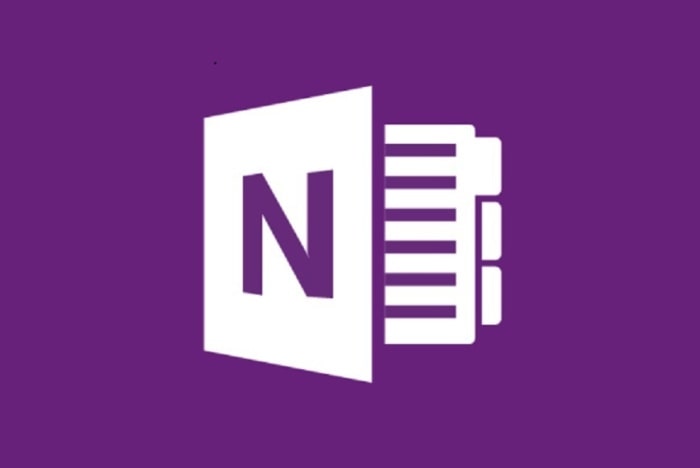 OneNote automatically saves your work as you go so you never lose anything important to you again.
You can even share notebooks with classmates and team members so you always have access to what they create as well as what you create.
As you create and organize your notes, OneNote automatically organizes them for you.
OneNote keeps all of your ideas in one place, so they're easy to find. You can even search text within images or files from services such as Evernote, Adobe Acrobat and Office Mix.
6. Obsidian
The human brain is non-linear as we constantly bounce from one thought to the next.
Your second brain should function similarly.
Making and following connections is really painless in Obsidian. You can take care of your notes like a gardener, and then sit back and wonder at your own knowledge graph at the end of the day.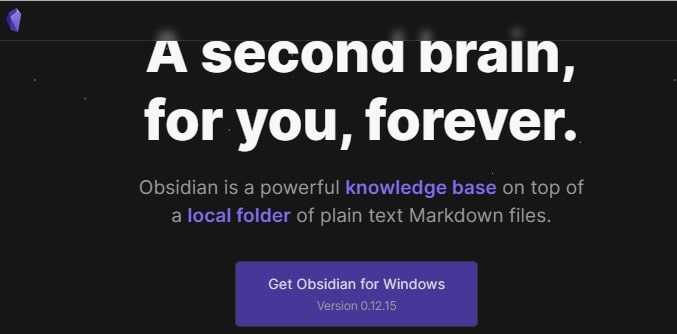 Some of the features of Obsidian are:
You have complete control over your data: Obsidian stores Markdown files in a local folder.
Wiki-style inter-page linkages.
Graph view of all your notes' relationships – Keyboard-only switching between notes – Flexible plugin system; you just need to enable the ones that matter to you. Some of the plugins are In-app PDF viewer and Audio player.
7. Asana
Asana is a free web-based project management app for teams.
It's the easiest way to track projects and tasks, so you can focus on what really matters.
Whether your team is remote or in the same office, Asana makes it easy to stay connected with your work.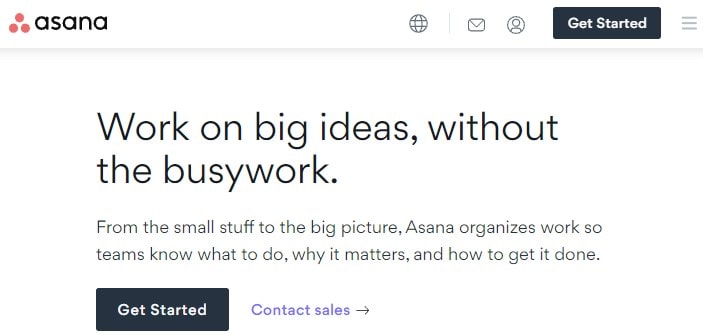 You can use Asana to create projects and assign tasks within them, set due dates and reminders, attach files from Dropbox or Google Drive, comment on items with other members of your team – all without leaving the app.
And because everything syncs automatically across any device where you're logged in (including mobile), you'll never miss an update again.
So these are the 7 best alternatives to Notion that you can try!
---
You Might Also Like
---