Microsoft Azure is a cloud computing platform that was earlier called Windows Azure. It was later renamed Microsoft Azure in 2014. It is created by Microsoft to build, deploy and maintain applications and services effectively across a worldwide data center network.
The world's fastest-growing cloud platform is Microsoft Azure. You can open a world of computing resources and opportunities when you learn how to use Microsoft Azure.
Acquiring Azure skills is important for IT professionals as Azure continues to grow and develop in recent years.
Learning Azure gives you the skills to build and manage essential cloud services that keep your company ahead of the curve. So, whether you are building your career in DevOps, system administration or app development, Azure is for you.
It comes second only to Amazon Web Services (AWS), which has the largest market share. If you want to keep your skills up to date and current, then a clear preference is Microsoft Azure.
Let's go through some of the best Microsoft Azure books that will make you learn it easier.
---
Best Azure Books
---
1. AZURE: MICROSOFT AZURE: Essential User Guide to Learn Microsoft Azure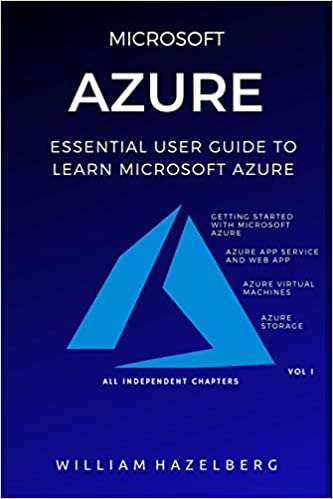 It is an essential User Guide to Learn Microsoft Azure. It covers all the topics from basics to advanced.
It is a short book and has only 167 pages and will help you build more than 100 services in the cloud and on-premises.
In this book, the concepts are explained with plenty of graphical illustrations.
It is a good introduction to Microsoft Azure.
View on Amazon
View on Amazon India
---
2. Azure: Microsoft Azure: Build, manage, and scale cloud applications using the Azure Infrastructure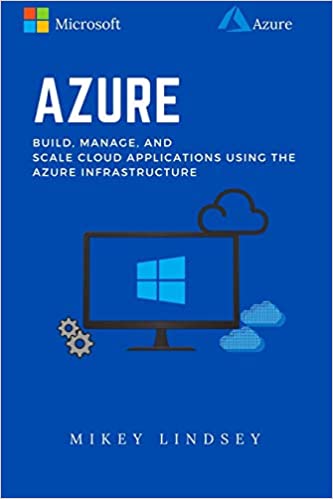 This book discusses the basics of Azure and will give you a better idea of all the main Azure resources that you are most likely to need to know in order to start developing solutions.
This book will help you in cracking the job interviews and also enable you to obtain various Microsoft Azure certifications.
This step-by-step guide on Microsoft Azure provides you with everything you need to know to do more than you ever thought possible with Azure!
What You Will Learn
Infrastructure as a Service (IAAS)
Platform as a Service (PAAS)
Software as a Service (SAAS) Public
Private, and Hybrid Clouds
Cloud Computing and Security Issues
Importance of Geopolitics in Cloud Computing
An overview of Available Azure Services.
Development with AzureMobile Services in Azure
Azure Storage Services
Creating a Linux Virtual Machine and many more!
Highly recommended book.
View on Amazon
View on Amazon India
---
3. Microsoft Azure For Dummies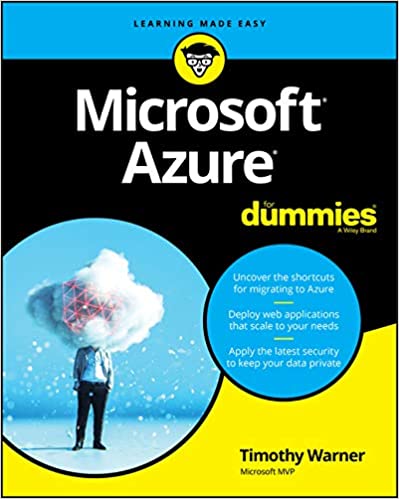 Microsoft Azure For Dummies is a good book that provides a workaround for the bulk of its customers to become acquainted and familiar with Microsoft Azure's core product offerings.
It is useful for those who are looking to gain a fast, simple understanding of this ever-evolving public cloud platform.
Microsoft Azure For Dummies book is written by a Microsoft MVP and Microsoft Certified Azure Solutions Architect and it will teach you the development of virtual networks, the setup of cloud-based virtual machines, the launch and scaling of web apps, the transfer of on-site services to Azure, and the safe and compliant protection of your Azure resources.
View on Amazon
View on Amazon India
---
4. Exam Ref AZ-900 Microsoft Azure Fundamentals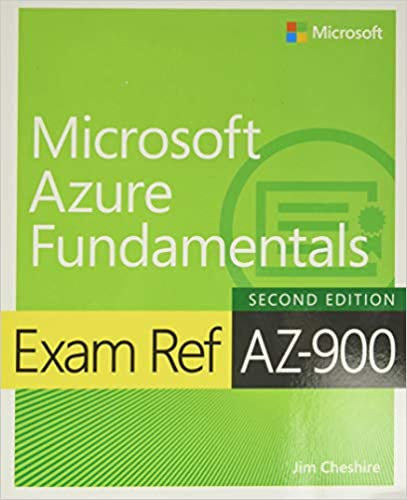 This book will help you demonstrate your real-world understanding of cloud services and how Microsoft Azure can provide them, including high-level principles that apply to Azure, and key concepts that are unique to individual services.
The Exam Ref series, developed for practitioners in non-technical or technical positions, focuses on the critical thinking and decision-making skills required for getting success at the Microsoft Certified Fundamentals level.
Exam AZ-900 focuses on:
IaaS, PaaS, and SaaS.
Compare public, private, and hybrid cloud models.
Describe core Azure architectural components.
Products, solutions, and management tools.
Describe how network connectivity is secured in Azure.
Describe core identity services.
Describe Azure security tools, features, governance methodologies, and monitoring and reporting options.
Describe privacy, compliance, and data protection standards.
Describe Azure subscriptions, cost planning, and cost management.
Describe SLAs and the service lifecycle.
View on Amazon
View on Amazon India
---
5. Learn Azure Sentinel: Integrate Azure security with artificial intelligence to build secure cloud systems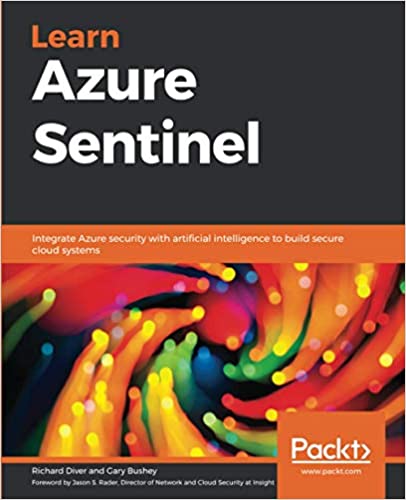 Azure Sentinel is a Microsoft-designed security information and event management (SIEM) tool to combine cloud security and artificial intelligence (AI).
Azure Sentinel not only helps customers in their setting to detect security problems but also uses automation to help identify and solve these problems.
In this book on Azure Sentinel, you will learn how it can help find security incidents in your world.
This book starts with an introduction to Azure Sentinel and Log Analytics.
Before learning how to construct effective Azure Sentinel queries to identify anomalous activities and patterns of activity, you'll get to grips with data collection and management.
You'll also learn how to build solutions that automate the responses needed to manage security incidents as you make progress.
Finally, you can consider the latest security trends, discover strategies to strengthen the architecture of your cloud security, and explore how you can contribute to the security community.
You will have learned how to incorporate Azure Sentinel by the end of this book to suit your needs and be able to secure your environment against cyber attacks and other security risks.
This book is for solution architects and system administrators who are responsible for implementing new solutions in their infrastructure.
What You Will Learn
Learn the skills to design and build a security operations center.
Know about the key components of a cloud security architecture.
How to manage and investigate Azure Sentinel incidents.
Use playbooks to automate security incident responses.
Learn how to set-up Azure Monitor Log Analytics and Azure Sentinel.
Ingest data into Azure Sentinel from the cloud and on-premises devices
Learn the tips to perform threat hunting in Azure Sentinel.
View on Amazon
View on Amazon India
---
Conclusion
So these are the 5 Best Microsoft Azure Books You Should Read.
You Might Also Like