Renting equipment is often a more affordable option than buying new or used equipment.
Equipment rental software helps businesses manage their rental inventory and track customer rentals.
This software can help businesses save time and money by streamlining the rental process.
For example, a business can use rental software to create a rental contract, manage customer payments, and keep track of equipment availability.
Here is a collection of the best Equipment Rental Software for your business.
---
Best Equipment Rental Software
1. Asset Panda
Asset Panda is a robust cloud/mobile app-based fixed asset tracking platform that enables you to work smarter.
The following workflows are among those that Asset Panda users can customize:
Work Order Management
Compliance Management
Purchase Order Management
Service Management
Enterprise Service Desk Solutions
Fixed Asset Location Assignment
Check In and Check Out, Depreciation
Fixed Asset Disposal
Fixed Asset Asset Maintenance
Reservation Management
Tool Tracking
Features of Asset Panda system are:
Barcode scanning for mobile apps
GPS coordinate capture
Parent-child relationships and data grouping
A calendar/Gantt feature
Change history reporting
Hosting for documents, images, videos, and voice notes related to assets
A variety of field types from which to choose when creating custom fields
Role-based user configuration.
The mobile app for Asset Panda enables users to update/change asset data while on the move and conduct audits via barcode scanning.
Users may work with real-time data because to its complete integration with the online application.
Red Laser barcode scanning technology is embedded within the software, so no additional expensive hardware has to be bought.
The following are some advantages of utilizing Asset Panda:
Asset Panda may be tailored to each customer's specific business requirements, enabling more effective asset tracking and management.
Simplifies all processes, including audits, purchase order management, compliance, facilities management, and equipment support ticketing.
Provides customers with easy access to all asset photographs, documents, videos, and voice notes in one location.
Users have the freedom to track and manage assets while on the road thanks to mobile apps for iOS and Android.
Users may quickly and simply produce the data they want with drag and drop reporting.
The cost of Asset Panda is depending on the quantity of assets that will be tracked and managed. It is an annual subscription-based solution.
Unlimited users, first-rate support, unlocked configuration tools, and access to a wide range of industry-standard integrations are all provided to accounts monitoring 500 or more assets.
Large and Mid Size Business, Non Profit, Public Administrations, and Small Businesses are among Asset Panda's regular clients.
Freshservice, Microsoft Azure, Zapier, Jamf Pro, Mailchimp, Azure Active Directory, Freshdesk, OneLogin, Google Workspace, Okta, ConnectWise Manage, and Zendesk are among the programs that Asset Panda connects with.
The following support channels are available through Asset Panda: FAQs/Forum, Knowledge Base, Phone Support, Email and Chat.
2. Rentman
Rentman is AV & Event resource management and planning software that is cloud-based.
It provides AV, event, and production firms with a centralized platform for managing equipment, planning, and/or billing.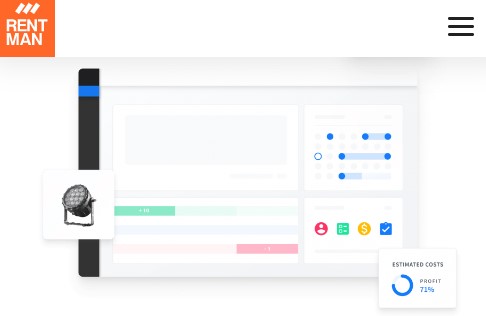 Rentman has a flexible price structure; you may use it as an all-in-one solution or simply pay for the goods and add-ons that you require!
You can manage rents more effectively using Equipment Scheduling.
It allows users to manage sub-rentals and keep track of their equipment availability.
Visually track equipment stock levels and locations at any time. The Equipment Tracking add-on supports QR and barcode scanning, allowing you to trace your equipment down to the serial number level.
With a drag-and-drop scheduling calendar, Rentman's Crew Scheduling enables sensible planning.
It makes event planning easier by providing consumers with a comprehensive picture of crew members' schedules. (Freelance) employees may simply check job schedules and report their hours using the smartphone app.
Quotes and invoices may be readily created using your own document structure and style in the program. Rentman maintains the protection of all documents and data by using automated backups and bank-level security requirements.
The following are the primary advantages of utilizing Rentman:
Visually track the stock levels and placement of equipment.
Drag-and-drop crew and transport scheduling.
Create quotations and invoices quickly and easily using your own design.
Quicker handling thanks to built-in QR- and barcode scanning capability.
Use email and push alerts to interact directly with staff members and consumers.
Rentman is a platform that can be enhanced with various products and add-ons. The Rentman Platform is $39 per month, with extra fees dependent on the amount of items, add-ons, and power users selected.
Rentman connects with WooCommerce, Zapier, Stripe, Quickbooks Online, Google Calendar, and Xero.
Rentman provides the following types of support: Email, Chat, and Phone Support.
3. Rentle
Rentle is a one-stop marketplace for renting and selling things as a service.
Rentle is utilized by large and small rental firms, as well as retail chains who provide equipment rentals, loans, or subscriptions as part of their offerings.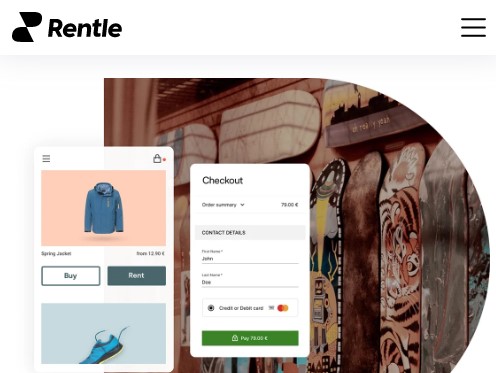 Rentle provides you with a pre-built online store that you can use as a standalone site or integrate with your existing website.
It is entirely responsive and provides your consumers with the best purchasing experience possible on any device.
The web shop may be customized to match your brand, and altering the content is simple and does not require any technical knowledge.
Rentle, in addition to its online store, allows you to rent and sell your things in person.
Self-check-in kiosks and a POS interface where you can manually place orders are among the physical sales channels.
You may keep an infinite number of goods in your inventory and track them individually or in bulk. Rentle records your orders and equipment, providing you with information about your most lucrative client categories, best-performing goods, and inventory consumption.
Rentle Payments or linking Rentle to a third-party payment source can also be used to take payments and levy security deposits. Rentle's API and integrations ensure that it is compatible with your existing tool stack.
The most important advantages of using Rentle are:
A simple and easy-to-use user interface. 
A simple and easy-to-use user interface. 
Rentle can be used on any platform (phone, tablet, or desktop), allowing you greater freedom in your job.
Rentle may keep a limitless amount of inventory items and track them individually or in bulk, reducing paperwork and legal hazards. You may easily mix your individual goods to create product bundles.
Having built-in payment functionality and processing eliminates the requirement for an external payment processor. Security deposits can also be charged automatically.
Rentle's versatile integrations and API allow you to link it to your tool stack.
Available in 14 different languages.
Rentle has three pricing plans: Basic ($39 per month), Grow ($79 per month), and Advanced ($399 per month).
Rentle works with the following apps: Google Analytics 360, Zapier, WordPress, and Stripe.
Rentle provides the following support options: Phone Support, Email Support, and Chat.
4. Booqable
Booqable is an all-in-one rental software platform that is changing the game for rental companies all over the world.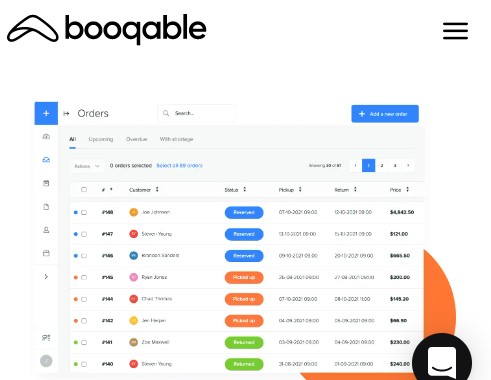 Booqable provides all the tools you need to simplify your rental business, minimize your burden, and accept online bookings on your website, with straightforward features and outstanding support.
Booqable provides a versatile solution for your needs, whether you rent out bikes, camera equipment, event decor, or anything else.
Booqable covers all part of your rental operation, including inventory management, orders CRM, documentation, payments, and an online rental store, so you can stop messing around with spreadsheets and start delivering your clients the finest renting experience possible.
Booqable includes interfaces and an API for connecting it to third-party solutions like as Stripe, PayPal, WordPress, Weebly, Zapier, and Google Calendar.
The following are the main advantages of using Booqable:
Create and manage orders with automated price and availability computation.
Gain a comprehensive understanding of inventory availability, stock levels, and shortages.
Using email templates, create customized quotations, contracts, and bills and send them to customers.
Integrate Booqable with your existing website to allow clients to book and pay online.
Accept payments online, charge and pre-authorize credit cards, and email payment links
Use barcodes and QR codes to speed up your rental process while reducing human mistake.
Booqable has three price levels to accommodate varied team sizes and needs:
Essential: $29 per month (paid yearly) or $35 per month (billed monthly).
Pro: $79 (paid yearly) or $95 (billed monthly) (billed monthly).
Premium: $249/month payable annually or $299/month billed monthly (billed monthly).
Every plan includes an unlimited number of products, orders, and customers. There are no hidden costs or commissions.
Booqable provides the following customer service options: Email and online chat.
5. Flex
Flex is a web-based rental management tool with features including process management, client management, financial management, and barcoding. Customers in the live event sector are the target market for the software.
Flex aids with the customizable administration of contacts, such as suppliers, independent contractors, clients, and venues.
Through the inclusion of features like follow-up calls, variable payment arrangements, and default discounts, the program aids in managing client interactions.
Through Flex, event organizers may plan staff tasks and email event crew members.
Additionally, the software has customizable workflow capabilities that may be used to support the client organization's internal procedures and terminology.
Flex lets several users collaborating on the same pull sheet and aids with inventory and warehouse management.
Additionally, the program is compatible with Bluetooth, USB wedge-style, and wireless barcode scanners.
Additionally, it aids with label printing. Flex provides accounting features that make it easier to track payments and generate invoices.
The software supports rental payments, credit notes, purchase orders, rentals, invoices, quotations, and payments. It also connects with QuickBooks.
Enterprise corporations and small firms with a single location may both utilize Flex.
The program is compatible with Windows, Mac OS, and Linux. All internet browsers, including IE, Firefox, Safari, and Chrome, support it.
Key advantages of using Flex are:
Flex is an online rental management tool that aids companies in the live events sector in managing their clients, money, workers, and event scheduling.
The program assists in the management of invoices, quotations, memoranda, and purchase orders. It also enables users to drag-and-drop elements to produce reports.
The software provides a specific interface that allows inventory management, voice prompts, real-time scanning, and warehousing activities.
Flex provides native iOS mobile apps that let users to access and review calendars and sheets on their iPad or iPhone.
Flex includes security features including identity management, SSL encryption, multi-factor authentication, and custom security integration and is built to operate with MySQL.
A free trial is offered along with the subscription-based Flex pricing plan.
The following programs are compatible with Flex: Google Calendar and QuickBooks Online Advanced.
So these were the 5 Best Equipment Rental Software for small and large businesses.
---
Tips for Equipment Rental Software
In recent years, the equipment rental software industry has boomed. This is due to the many advantages that this type of software provides businesses.
It can help rental companies manage their inventory, track customer information, and more.
There are a few different types of software available, so it is important to do your research before you make a purchase.
When you are looking for equipment rental software, it is important to consider the features that you need.
For example, does the software allow you to track customer information? Can you create invoices and quotes?
Does the software integrate with your accounting system? These are just a few of the questions that you should ask yourself before making a purchase.
Another thing to consider is the price of the software. Be sure to compare prices and features before making a decision.