Aviation maintenance software is used to manage the technical aspects of an aircraft.
It can be used to track parts inventory, schedule and track repairs, and monitor performance data.
Aviation maintenance software can help improve safety and efficiency in an aircraft maintenance operation.
Aviation maintenance software helps pilots and mechanics keep aircraft in the air.
It includes tools for tracking aircraft performance, keeping records of repairs, and forecasting future needs.
Aviation software is also used to manage air traffic control.
Here is a collection of the best Aviation Maintenance Software for your business.
---
Best Aviation Maintenance Software
1. UpKeep
UpKeep is a cloud-based CMMS (computerized maintenance management system) that is appropriate for a variety of sectors, including manufacturing, construction, distribution, warehousing, and aviation.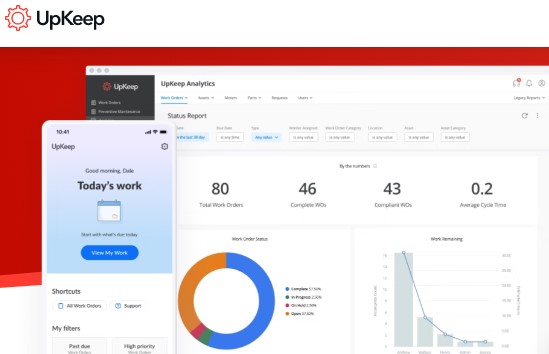 With capabilities for work order generation, prioritization, signature capture, image annotation, asset data import, barcode scanning, inventory management, chat & collaboration, invoice preparation, and more, the system enables users to handle maintenance planning and work orders on-the-go.
Utilizing templates and form components, UpKeep enables users to construct bespoke work orders for a variety of reasons, including making checklists and measuring values.
Key advantages of adopting UpKeep include:
Real-time notifications and alerts are provided to let users know when tasks have changed or an asset has failed.
Work orders may be modified to keep notes, make checklists, and measure values. Priority levels can also be specified, and each work can have photographs, files, or parts added to it.
Users may scan barcodes on parts or assets to add them to work orders, reserve and schedule components for usage in maintenance, and manage part histories. Data on existing assets can also be imported.
Requests may be made by anyone, from any device, with the option to get notifications for new requests and the ability to follow request statuses in real-time.
Sensors may be linked with UpKeep, enabling users to access comprehensive sensor data, monitor assets in real time, create criteria to automatically initiate repair requests, and more.
Pricing details are as follows:
Starter: $45 for each user, each month (billed annually).
Professional: $75 each month per user (billed annually).
Business Plus: $120 each month per user (billed annually).
Enterprise plans are available on request.
UpKeep integrates with the following applications:   Zapier, Azuga Fleet, Coupa Business Spend Management, Looker, Mingo, Workato, Microsoft Power BI, Microsoft Teams, Procore, Motive, Microsoft Azure, Linxup, OneLogin, Okta, Slack, Tableau, Samsara, Titan GPS, Xero, Zendesk and Microsoft Excel.
2. Airline Suite
Airline Suite is a complete and integrated solution developed to assist organizations in the aviation sector in streamlining all aircraft maintenance operations.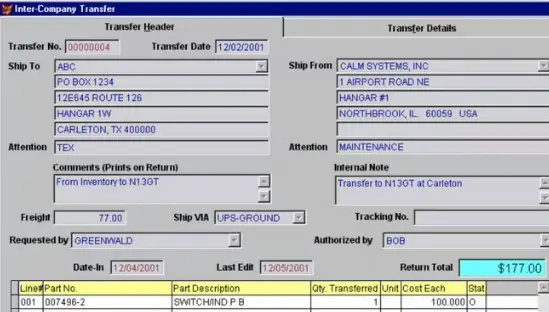 Purchase orders, airframe inspections, work orders, fleetwide part search, trend analysis, inventory, and barcoding are all supported by the system.
Furthermore, it offers reporting and integration features, allowing customers to manage their fleet in a single system.
It has an integrated C.A.L.M module that allows users to manage all inspection components and create reports showing the status of inventory in various locations.
The status report is simple to understand. Overall, a decent value, simple to use, and excellent support.
The pricing plan for Airline Suite is subscription-based.
3. MX System
The MX System was created to satisfy the requirement for a versatile, comprehensive, yet cost-effective aircraft maintenance system capable of supplying the crucial information required by today's operators.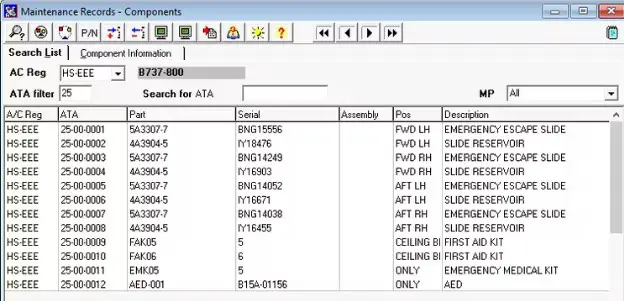 Maintenance component tracking, reliability analysis, maintenance planning, flight log administration, maintenance control, aircraft status, flight scheduling, parts purchasing, requisitions, RFQ, exchange orders, warranty tracking, repair orders, sales orders, and inventory control are all aided by it.
It is a maintenance management solution designed for aviation enterprises of all sizes that allows users to maintain paperwork, inventories, flight records, and more.
MX System offers the following pricing plans: Pricing model: A one-time license and a free trial are also available.
4. WinAir
WinAir is the clear choice for enterprises concerned about dependability, compliance, and having access to reliable data.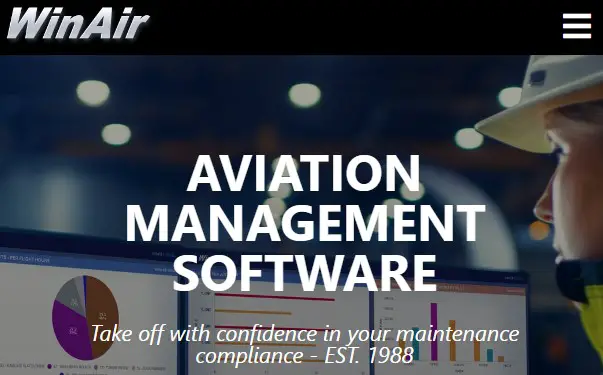 As a pioneer in aviation management software, the firm has over 30 years of expertise.
Businesses all around the world rely on WinAir to track and manage their aircraft maintenance and inventory control.
WinAir's clients benefit from a bottom-up approach to aircraft maintenance management that adheres to actual industry best practices with the newest iteration of the program, WinAir Version 7.
This allows users to immediately embrace the program, understand product expertise, and deliver complete data to management.
Airlines, operators, heli-ops, MROs, and CAMOs are all included. WinAir has over 30 years of expertise helping organizations streamline procedures, ensure compliance, and save money on maintenance.
You have to contact WinAir at info@winair.ca for pricing and a personalized product demonstration.
5. FMX
FMX provides customized maintenance and facilities management software that assists enterprises in streamlining procedures, increasing asset productivity, and turning actionable data into meaningful outputs.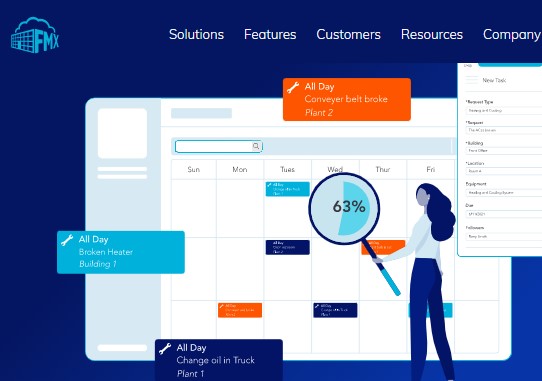 The program shortens the time it takes to resolve work orders, organizes preventative maintenance tasks, and helps you to manage your equipment and assets all in one simple system.
When you select FMX as your solution, it will be their top focus to assist you in achieving operational excellence and improving your bottom line.
FMX customizes each organization's solution so that you only pay for the features you require and none that you do not.
They provide a 14-day free trial and do not require a credit card.
FMX can connect to Microsoft Outlook, ChMS, Slack, Quickbooks Online, Veracross, Google Calendar, Microsoft Excel, and JD Edwards EnterpriseOne.
6. Fiix
Rockwell Automation's Fiix is the leading maintenance management platform.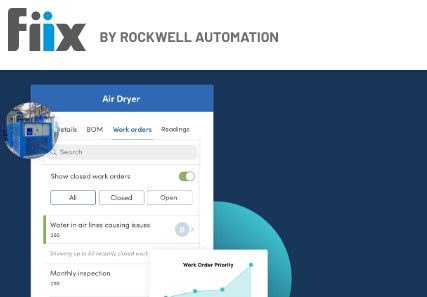 It combines asset, work order, and parts management tools with powerful cloud and mobile capabilities, the industry's most open integration network, and AI-driven insights.
The cloud-based CMMS from Fiix allows you to manage many enterprises, divisions, facilities, or locations from a single database.
You can create, manage, track, and allocate an infinite number of work orders, and you'll get notifications when one is assigned or finished.
By gathering all asset information in one place, you can track and improve asset performance and keep equipment available, safe, and productive.
The following are the price details:
Basic: $45 per month per user.
Professional: $75 per month per user.
Enterprise: Custom pricing.
Fiix is compatible with the following devices: Android, iPad, and iPhone.
Infor Cloud ERP, Dynamics 365, NetSuite, SAP Business One, Sage 500, Workday HCM, Oracle Cloud Financials, Microsoft Power BI, Geotab, JD Edwards EnterpriseOne, and SAP HANA Cloud are all compatible with Fiix.
7. Flightdocs
ATP Flightdocs is the industry standard for entire flight department administration.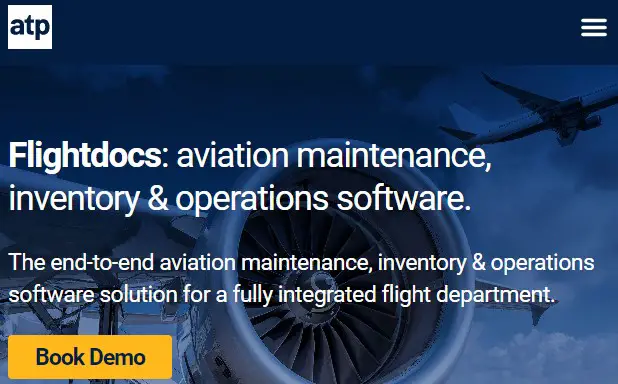 Flightdocs has been enabling aircraft operators since 2003 by utilizing innovative technology and customer service to maintain the greatest levels of safety, quality, and efficiency in maintenance and inventory monitoring.
It is ideal for business and charter aircraft operators (91/135) as well as small to medium-sized regional airlines.
---
So these were the 7 Aviation Maintenance Software for your business.